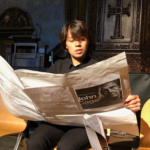 KHASENOVA Nuriia
2018 - Flutiste
Nuriia Khasenova was born in a family of musicians, learnt music since the age of four and graduated from Moscow Gnessins Musical School-College. She has taken part in International musical competitions and festivals in Russia, Ukraine, China (Shenzhen), Hong-Kong, Italy and Holland. In 2013, she obtained 2nd prize at the International flute competition in Poland. In 2012, she moved to Switzerland to further extend her education at the Haute École de Musique de Genève in the class of Michel Bellavance (flute).
In December 2017 she obtained a Master Concert degree in flute performance at the ZHdK in Zürich.
Nuriia is exploring the techniques of contemporary music, free improvisation and continues to pursue different musical festivals and projects. Currently she is pursuing a Master Pedagogy at the ZHdK studying with Philippe Racine.
---
Retour aux lauréats